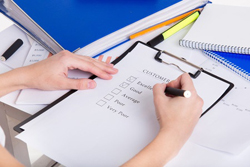 Customer discovery interviews are essential to testing key B2B product hypotheses and understanding your target customers' needs. Broadly there are five ways that you can reach out to potential customers for a discovery conversation. All of them assume that you have a clear picture of who your target is and a few key questions that they will be willing and able to answer that will indicate they have a problem or need your solution may address.
Five Ways to Start Customer Discovery Interviews
By introduction
At a meetup
In an on-line forum
Via cold e-mail
Via a cold call
1. Ask friends for an introduction
The easiest way find people is to reach out to your friends about recommendations about you should talk to. If you are not already doing this two or three times a week you should re-connect with someone in your network and take them to coffee or give them a call and ask them for help. The more specific your request the more you help them to understand who you are looking for: suggest job title(s), roles, specific industries and particular problems or needs.  Make it easy for them by being as clear as possible about the type of person you are looking for and provide them with a draft email that they can cut and paste or forward about what you are up to and why the person should have a conversation with you.
Below is an example email:
I am working with a team that is developing BeamWise,  which is a tool for optical designers to be able to sketch an optical design instead of using a whiteboard. It's aimed at benchtop/pegboard designs, more for proto than a final volume product. The goal is to enable many more iterations in the same amount of time as it takes to assemble a first benchtop prototype and provide reliable links to both simulation tools like Zemax and mechanical design environments like AutoCAD or SolidWorks. It's not designed to replace either category of tool but to enable rapid sketching and iteration using either generic parts (e.g. filter, lens, optical detector) or real parts pulled from the on-line catalogs of the major suppliers.

If you can suggest any optical designers I can talk to I would like to ask for 20 minutes to schedule a short webinar / demo to walk them through it and get their feedback. This is not a prelude to a sales pitch but a request for your honest critique and feedback.
Shorter Version
I am working with a team on a new product that is intended to help optical designers save time, prevent mechanical fit errors, and rapidly explore different layout options for new benchtop optical systems. People we have already talked to have told us that there is a gap between optical simulation and mechanical design tools. Our intent it is to understand real challenges they face not addressed by current offerings and to interoperate with them. If you know any optical designers who are wrestling with this gap I would appreciate an introduction for a 15 minute conversation to understand their perspective.
Send these requests one by one and have a conversation with each person you are asking a favor for. This allows you to fine tune what you are asking for and makes sure that you are learning as you go.
2. Look for folks a meetup
When looking at meetups to attend, consider which meetings will attract the type of person you want to meet. Look at the group's charters, organizers, topics and speakers.  Will this group attract the person I am looking for. Check it out and then consider how you can get involved and become a respected member of the group. Here you will need to state succinctly (less than 30 seconds–practice!) what you are working on and be able to explain the kind of people you are interested in talking with. Always bring business cards and exchange them.
3. Online forums and newsgroups
Often people post their struggles on online forums and newsgroups, so these can be great places where you can identify problems and people to interview.  You can ask them what they have tried and even post a solution. Like meetups it often takes work to identify the right group, but once you do it can be a great source of customer leads.
Do your homework before posting:
Spend at least an hour or two reading through the archives to understand the "unwritten rules" and what topics have been addressed.
Read the Frequently Asked Questions list if one is available
Before replying to a post
Check out any prior posts by this person.
Check out their website, LinkedIn profile, blog, and tweets for context.
Consider whether to 

reply privately in the forum.
4. Cold email
Sending cold email is often hard but it does work. With a short clear value proposition that indicates that you will not waste their time, cold email asking for advise has started many conversations and has initiated many relationships.  It might take various forms, email, linkedin InMail, direct message to a twitter follower.  All can get you connected with potential customers! In a few sentences explain:
Who you are and what problem are you working on.
Why contacted them: something they wrote, something you read about them or their firm, a talk they gave you attended or listened to, etc..
What's in it for them?
What you are asking for? For example: answers to two questions (included in email) or a ten minute phone call.
5. Cold call
Cold calls are the most disruptive to the person that you are trying to reach so it is not our first approach. But like the cold email it can work. Be prepared. Since the most likely outcome is that you will leave a message, rehearse that in advance so that it's brief, to the point, and your phone number is clear. Only say your phone number once but say it clearly. The second most likely outcome if you are targeting a manager or senior exec is that you get an admin, be prepared to give the reason for your call. In a concise matter include:
Who are you?
Why did you reach out?
What's in it for them?
What you are asking for?
Now that you can find people, what do you say? Tell your story:
What led you to this problem / solution?
How long and why you have been working on it?
Why you are interested in solving it?
Then ask for their advice:
What solutions have they seen?
What are the problems with existing solutions?
How important is the problem?
And the conversation has started! You will be well on your way to uncovering and building new customer relationships.
Related Blog Posts