Any innovation effort is a painful struggle punctuated by false starts and dead ends. Your efforts are met with lack of interest even when a basic invention is working and active resistance when it starts to replace the tried and true. Like any childbirth the trick is managing the pain long enough to deliver.

I am so tired of reading about "growth hacks" and shortcuts and the easy way. There are certainly some tactics that are more effective than others but when I see some titles for talks and articles I think of applying them to activities that look more like innovation:
Four Hacks For Becoming a Navy SEAL in a week!
One Crazy Trick to Growing an Oak Tree Overnight!
Ten Shortcuts to Mindfulness!
The Trick Is Not Minding the Pain
I think the real trick to persevering is not minding the pain.

Lawrence: "Allow me to light your cigarette."
Lawrence snuffs out the match with his bare fingers.
Potter copies Lawrence and starts shaking his hand.
Potter: "Oooh! It damn well hurts."
Lawrence: "Certainly it hurts."
Potter: "Well, what's the trick, then?"
Lawrence: "The trick, William Potter, is not minding that it hurts."
Cultivate Skills And Habits That Make You Resilient
I saw this drawing by Nathan Pyle (@NathanWPyle) from his book NYC Basic Tips and Etiquette in "How to Survive New York and Stay Polite" by Paige Cooperstein and realized it was a neat encapsulation of the challenge founders face in getting their startup to viability.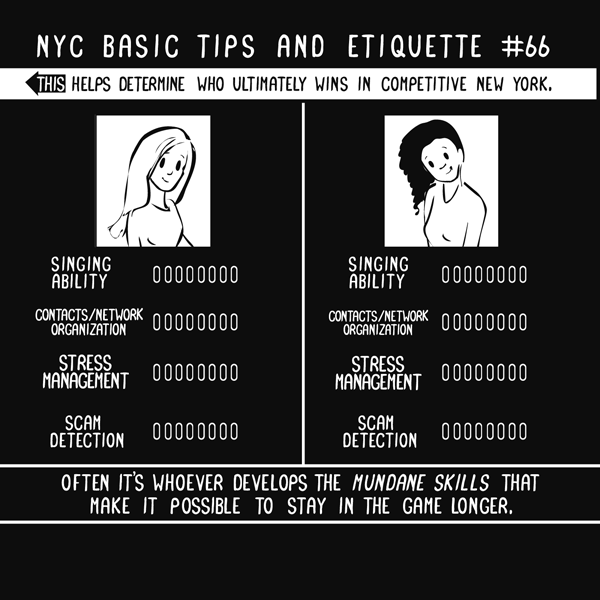 So what can you do to become more shock resistant:
Meditate.
Cultivate mindfulness: count your blessing and appreciate the beauty and joy around you.
Make sure that you are working on something that resonates with a deep sense of purpose. I am not saying follow your bliss or only do what you love, but make sure you can see a connection between what you want to do with your life and your startup (Hint: if the answer is "make a lot of money" then save time by selling someone else's proven product).
Get enough sleep.
Stay connected to family and friends.
Take part in the communities around you that match your interests.
Navigating Slippery And Uncertain Terrain
"Innovation is not born from the dream, innovation is born from the struggle."
Simon Sinek
One of my partners in BeamWise, Tapio Karras, competes in orienteering events. These are essentially foot races through unfamiliar rough terrain with the aid of a map and compass. The sport requires careful preparation, quick reaction to facts on the ground, and the ability to persevere in slippery and uncertain terrain. Good training for a startup.
I think of early market exploration and customer discovery as orienteering in human terrain. I think the biggest challenge is to leave your chips down after the bet: to commit to a course of action and see it through far enough so that you know that it's working or that it's not going to work. That's one thing I admire about Tapio, while he has regrets–who doesn't–he does not dither. He may observe carefully for a long time but then he plunges in and sees it through.
Related Blog Posts