Luke Spear, Steve Blank, Conchita Franco-Serri, Mike Rowehl, and Taimur Alavi recommend Sean Murphy for customer development.
People Who Recommend Sean Murphy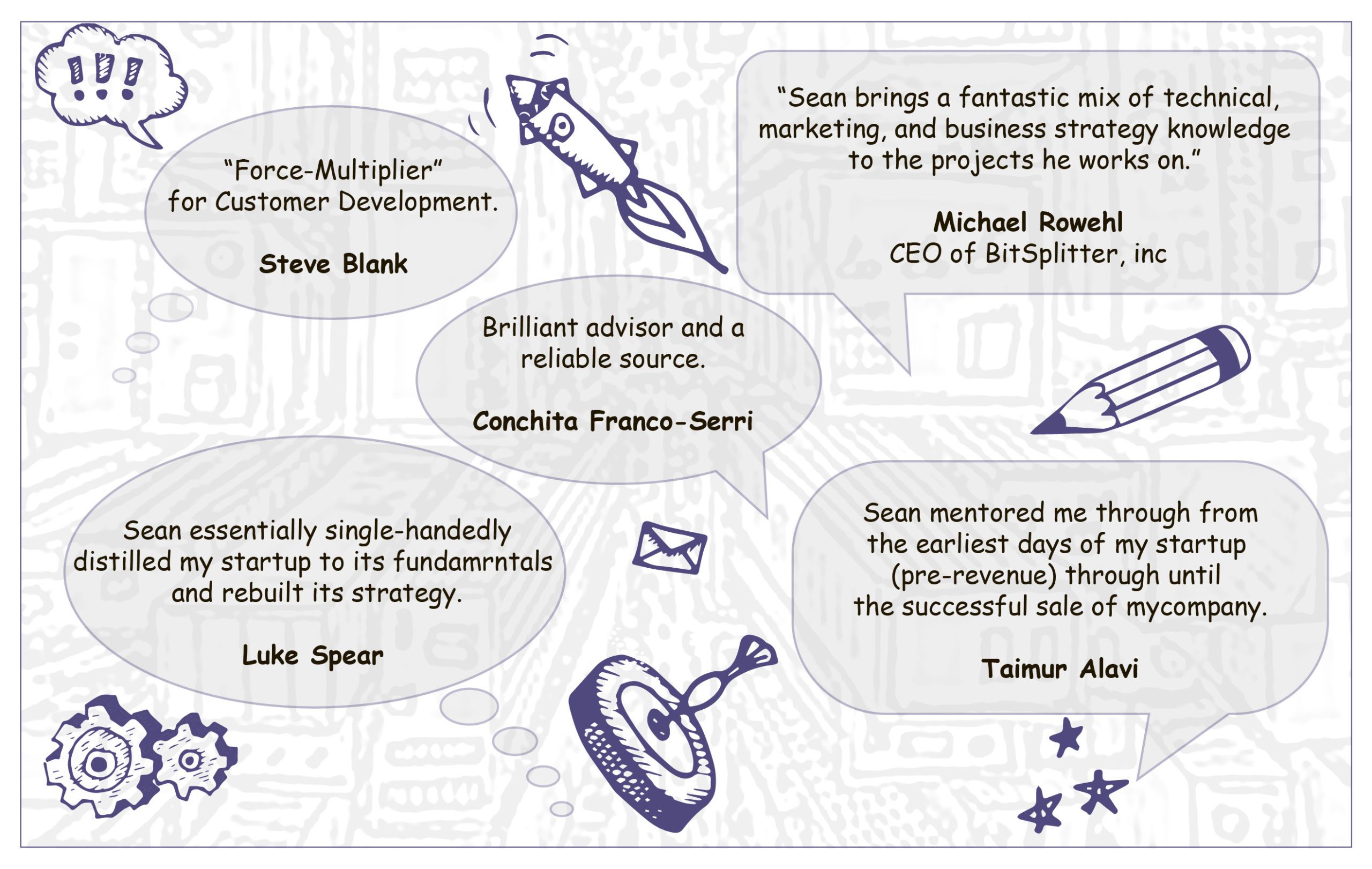 "Sean took a good deal of time to understand and advise on the business model of the translation industry-based startup I've been working on for several years.

His vast experience is clear to see in how quickly he grasped its positioning and what it is trying to do. That in itself was interesting, his depth of intuitive understanding of the model, but he then went on to explain how to redirect the focus of the business and better speak to the target market.

He essentially single-handedly distilled the startup to its fundamentals and rebuilt its strategy in one meeting. That strategy is being tested currently, but if the logic holds true, Sean has brought lots of value to the venture and will be a valued advisor in years to come. I can certainly attest to the clarity of the strategy, and would whole-heartedly recommend you speak to him if you have any concerns about the direction of your business."  – Luke Spear, Founder of Language Ops
Still one the best managers I've ever worked for. And that speaking of 40 years of experience. – Carlos Lovato, Senior Printed Circuit Board Designer at Facebook
Sean is a great coach, and did a fantastic job training and onboarding me at OpenSensors. Sean taught me pretty much everything I know about sales, and helped us at OpenSensors identify our early customers.

He is service minded, analytical, knowledgeable – and last but not least hilarious. He has a story about pretty much everything!

It was a pleasure working with Sean, and he gets my warmest recommendations.

Daniel Landro Hummelsund, Growth Manager at OpenSensors Growth Manager
Sean mentored me through from the earliest days of my startup (pre-revenue) through until the successful sale of my company. – Taimur Alavi,
"I met Sean through the Bootstrappers' Breakfast events that he leads. I attribute much of the success of my business to the information and contacts that I have found through those meetings. Not only are they excellent for networking, but Sean himself gave me invaluable advice on focusing and promoting my business. I have also learned a lot from Sean's market focus and his outcome-oriented thinking." Paul Scott
"Sean is one of the most clear-minded and generous individuals I have ever met, a brilliant advisor and a reliable source. He is a committed, trustworthy professional who does whatever it takes to create value for others. As a visionary leader, he possesses a comprehensive, current, detailed understanding of the tech industry and the technology behind it. It is a pleasure to work with Sean." – Conchita Franco Serri, Founder of Passteur & Caroami
"Sean brings a fantastic mix of technical, marketing, and business strategy knowledge to the projects he works on. When he doesn't already have an answer immediately available he has a process ready to help get to an answer. His honest and direct approach to problem solving ensures that time is always well spent". – Michael Rowehl
More Kind Word Recommending Sean Murphy
My experience with Sean and his team has been incredibly positive. Not only was their insight and experience valuable to our growth as a company, but they asked the questions that get me to really think about things that mattered to our business. – Jordan Yaker, Principle Engineer at Stuzo
"Ever since we first met, Sean has asked me probing questions and provided me with his holistic business acumen. He has a deep grasp of our business model and the unique challenges I've faced as a single founder and full-time stumblepreneur. He has provided considerable value to my organization." – Eli Angote, Founder and CEO, TheBestNotary.net
"Sean helped us evaluate a key technology as part of our effort to develop a service offering in response to significant new demand. He helped us to break the evaluation into a sequence of useful steps. Sean provided direct, on point advice, and understood the need for us to preserve the quality of our offering and our reputation for excellent client service." – Rick Ostiller, Managing Director at Navigant Consulting
"Sean was extremely insightful in zeroing in exactly our challenges; he made recommendations that were "no-nonsense" and actionable. He was direct and to the point – We had very great value for his services. Very efficient – not only do I recommend Sean's but I will definitely use his services again. " – Peggy Van de Plassche, Managing Partner at Roar Growth
"Sean is an intelligent and thoughtful provider of Marketing services for small businesses. He digs into a problem, and provides creative solutions that are germane to small businesses and startups.
I have seen him in action for many years at his Bootstrappers Breakfasts that bring together Startup companies here in Silicon Valley to challenge each other and give advice to their fellow entrepreneurs.
I highly recommend Sean Murphy and his company if you are in need of Business Development marketing ideas and services." – Carl Angotti, Angotti Product Development
Related Blog Posts